IELTS Speaking, Actual Tests with Suggested Answers, January-April, 2022.
Beside Cambridge IELTS Practice Tests series published by Oxford University Press, IELTS Speaking Recent Actual Tests with Suggested Answers aims to develop speaking and test- taking skills along with language proficiency to help you achieve a high IELTS Speaking score. It contains IELTS Speaking questions that were asked and would be asked in IELTS Speaking tests in 2021. The questions are divided into part 1, part 2 and part 3. Each of the questions have answers provided by our certified IELTS trainer along with the vocabulary that is specifically used for that question/topic. When using this e-book, you can be aware of the kinds of questions that you would face in a real exam, and how the answers are framed accordingly. Moreover, these tests are extracted from an authentic IELTS bank source; therefore, you are in all probability to encounter these questions in your real examinations.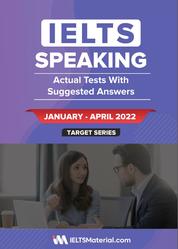 Primary School.
What did you like the most when you were in primary school?
The memories of my primary school are one of the most cherished memories I have with me. Everything about primary school was fun. The classes never felt boring, my teachers were always kind and helpful and everyone in the class was friendly. The most memorable parts of primary school were the recesses where all of my friends would run out to the playground and enjoy the rides and swings.
How did you go to your primary school?
My primary school was just a few kilometres away from my residence, so reaching there was never a hassle. My parents had arranged a carpool service which helped me and other students from my locality reach school every morning. I had to walk to a certain place where the carpool would pick me up, and I was accompanied by my father every day. However, there were instances where I would ask my father to drop me off at school personally, as I liked the journey to school on a motorbike.
Contents.
Introduction.
IELTS Speaking – Part 1.
1. Wedding.
2. Activity Near Water.
3. Lost.
4. Shoes.
5. Living.
6. Decoration.
7. Names.
8. Primary School.
9. Volunteer.
10. Housework.
11. TV Programs.
12. Farming.
13. Rest.
14. Foreign Food.
15. Celebrity.
16. Environmental Protection.
17. Barbecue.
18. Advertisements.
19. Special Costumes.
20. Wild Animals.
21. Wallet.
22. Car Trip.
23. Sky and Stars.
24. Relax.
25. Holidays.
IELTS Speaking – Part 2 & 3.
1. Describe a time when you felt proud of a family member.
2. Describe a businessman you admire.
3. Describe a creative person whose work you admire.
4. Describe a difficult thing you did.
5. Describe a person who solved a problem in a smart way.
6. Describe an art or craft activity that you had in school.
7. Describe a law on environmental protection.
8. Describe a live sports match that you have watched.
9. Describe your favourite movie.
10. Describe a natural talent you want to improve like sports, music. etc.
11. Describe a time when you suffered from disease/ sickness.
12. Describe a tall building in your city you like or dislike.
13. Describe something that you have shared with others.
14. Describe a film or movie that made you laugh.
15. Describe a plan in your life that is not related to work or study.
16. Describe a time when you did shopping in a street market.
17. Describe a time you saw something interesting on social media.
18. Describe a person who wears clothes that you think are unusual.
19. Describe a piece of international news you have recently heard.
20. Describe an occasion when you were not allowed to use your mobile phone.
21. Describe an argument that two of your friends had.
22. Describe a piece of equipment that is important in your home.
23. Describe a puzzle that you solved.
24. Describe Your Holidays.
25. Describe a food item that you tried for the first time.
26. Describe Your First Day At School.
27. Describe a Time You Made a Promise to someone.
28. Describe an art exhibition that you visited.
29. Describe a bag you want to own.
30. Describe an experience you had as a member of a team.
31. Describe a time when you feel bored.
32. Describe a person who you think is very open.
33. Describe an old friend you got in contact with again.
34. Describe a line that you remember from a poem or song.
35. Describe a tradition in your country.
36. Describe a family that you like, but it's not your own.
37. Describe a time you saw children behave badly in public.
38. Describe an area of science that you are interested in.
39. Describe an ambition you have for a long time.
40. Describe an event you attended in which you didn't like the music played.
41. Describe a clever decision someone made.
42. Describe an intelligent person you know.
43. Describe a photo that you remember well.
44. Describe a time when you received good news.
45. Describe an exciting book that you recently read.
46. Describe a volunteering experience you have had.
47. Describe a time when you invited someone for a dinner at home or restaurant.
48. Describe a programme or an app that you think is useful.
49. Describe a recent goal you set yourself.
50. Describe a large company that you are interested in.
Бесплатно скачать электронную книгу в удобном формате, смотреть и читать:
Скачать книгу IELTS Speaking, Actual Tests with Suggested Answers, January-April, 2022
- fileskachat.com, быстрое и бесплатное скачивание.
Скачать pdf
Ниже можно купить эту книгу по лучшей цене со скидкой с доставкой по всей России.
Купить эту книгу
Скачать
- pdf - Яндекс.Диск.
Дата публикации:
Теги:
учебник по английскому языку
::
английский язык